Exciting to see first impressions of the interior design by our Fontys Master of Architecture students for Seats2Meet in the LocHal in Tilburg. A concept based on different identities of Tilburg is translated in clusters of rooms with different colour schemes, custom furniture and custom made tiles in different materials. Recycled plastic referencing the Tilburg kermis, terracotta referencing the Kruikenzeikers, Felt representing the textile industry. Our students made and installed these elements themselves. So cool they got the chance to design and build!
Design by our students:
Manon Damen, Nick van Dijke, Mohammad Moftakhari Khalili, Piotr Kalbarczyk, Fauve van den Kieboom, Hessel Kleindop, Jurre Mattheeuwse, Charan Rozendaal en Iris van Uden.
Fabrication and on site installation of tiles by our students: Manon Damen and Hessel Kleindop.
Tutoring by LAGADO's Victor Verhagen together with Nicky Kouwenberg (NBA Architecten and Raul Forsoni (UNStudio). Pictures by LAGADO's Maria Vasiloglou.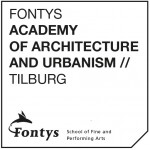 It is great this Fontys Academy of Architecture and Urbanism student work is  part of the LocHal with its cascading stairs and cool curtains designed by Civic Architects, Braaksma en Roos and Inside Outside and the interior of the library by Mecanoo.