Let the building begin! Our biggest project yet, waterfront housing project Spuifront in Oud-Beijerland is going on sale! Together with RoosRos Architecten as coordinating architect and Architectuur MAKEN, we designed a mixed residential ensemble of apartments and family houses on a fantastic location with a great views at the waterfront outside of the dike of Oud-Beijerland.

We designed a playful mix of six very different family homes and a 8 unit apartment building on key positions in the ensemble. Each building is a contemporary take on a specific quality of the existing buildings in the village. We used a bold array of colourful brickwork and a variety of colours for windowframes and fencework, based on the industrial colourscheme of the former concrete factory on site.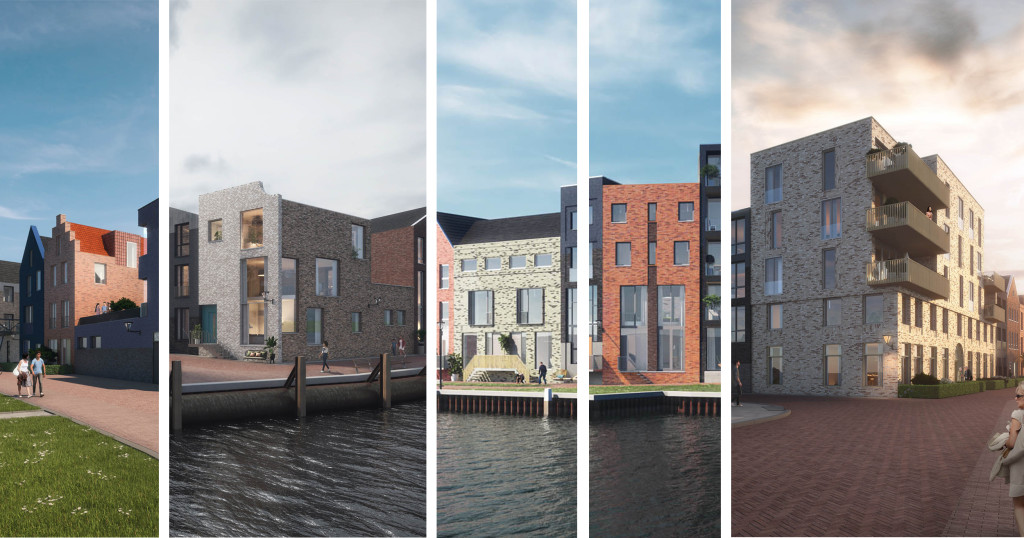 The compositions of our facades are designed to stand out from the rest through the use of deviant proportions, shapes and colours, adding a little punch to the whole. We used architectureal motives such as the displacement of windows and increased the height of our buildings by using pitched, stepped and curved gables.
All in order to generate a new piece of urban fabric that is undeniably contemporary, but simultaneously in harmony with the high and diverse built quality of the existing village.
Masterplan by West8
For AM and BAM Wonen B.V.
structural engineering by Lievense.