fOR A CORNER HOUSE IN A GREEN NEIGHBOURHOOD IN rOTTERDAM, WE ARE DESIGNING THIS SMALL BUT SPATIOUSLY RICH EXTENSION TO A FAMILY HOME.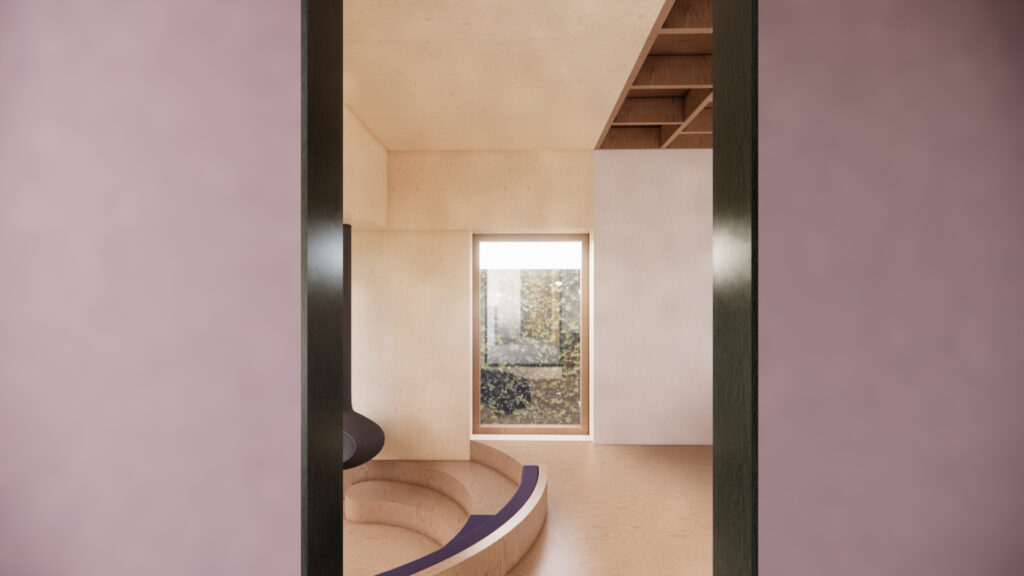 tHE HOUSE ITSELF SITS A BIT HIGHER ABOVE THE GARDEN. WE HAVE DRAMATISED THIS BY MAKING AN EXTENSION IN THE SIDE GARDEN IN WHICH THE DESCEND TOWARDS THE GARDEN FORMS THE MAIN SPATIAL GESTURE.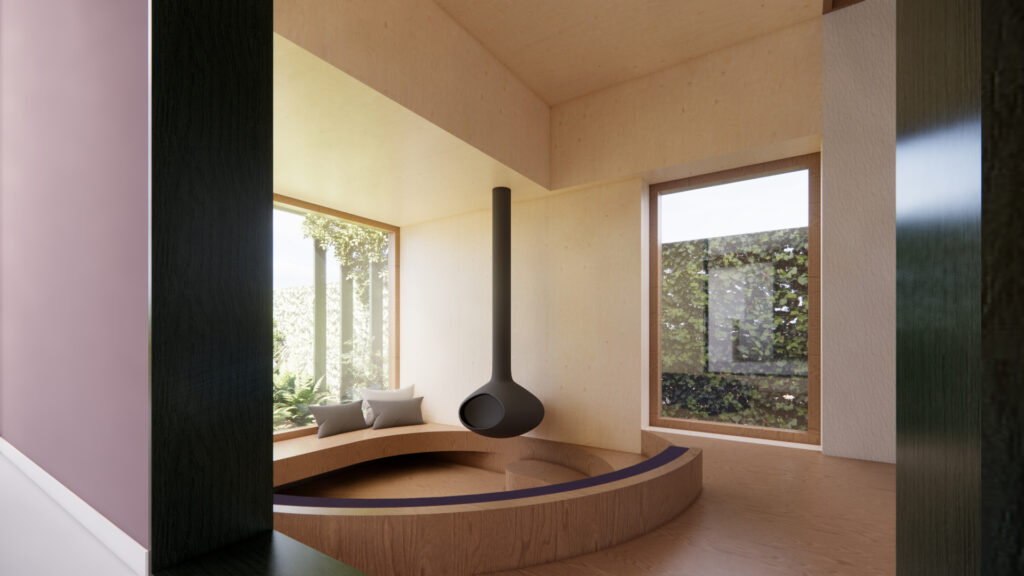 A CONVERSATION PIT WITH WOOD STOVE AND INTEGRATED BENCH AT GARDEN LEVEL MAKES YOU FEEL WELCOMED IN AND PROTECTED BY THE GREEN SURROUNDINGS.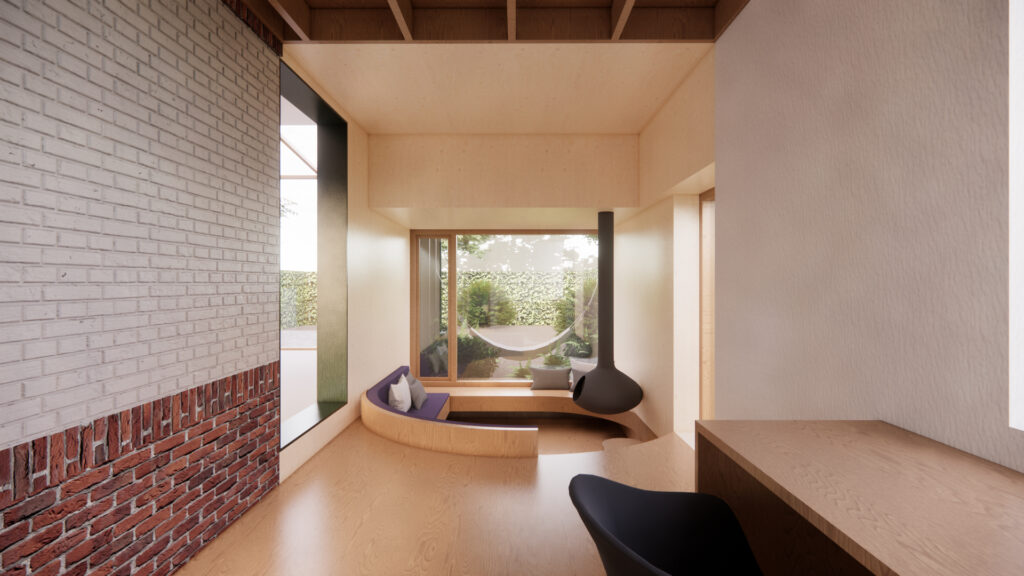 oUR CLIENTS WANTED TO HAVE A DIFFERENT TYPE OF SPACE TO ADD A DIFFERENT QUALITY TO THEIR HOME. tHIS SMALL BUT SPATIOUS EXTENSION GIVES THEM LITERALLY ANOTHER FOCAL POINT, TO BE TOGHETHER WITHOUT SCREENS AND SLOW DOWN.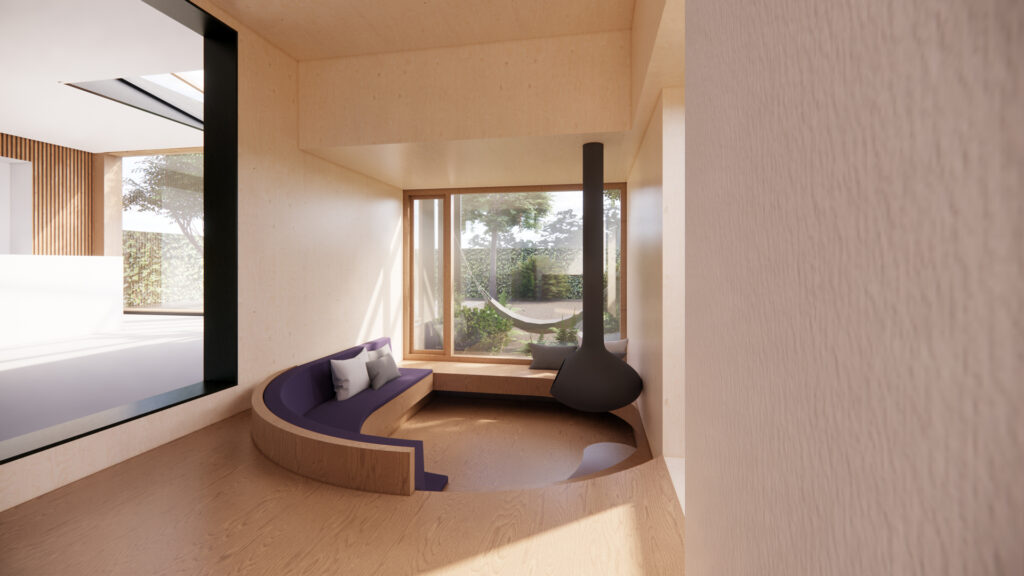 The facade is made up of a main volume of blackened overlapping wooden planks in which two volumes with flat facades and storage doors are placed.

The mass build-up corresponds to the massing of the existing building and is aimed to maximise views from the original windows and conservatory in the back.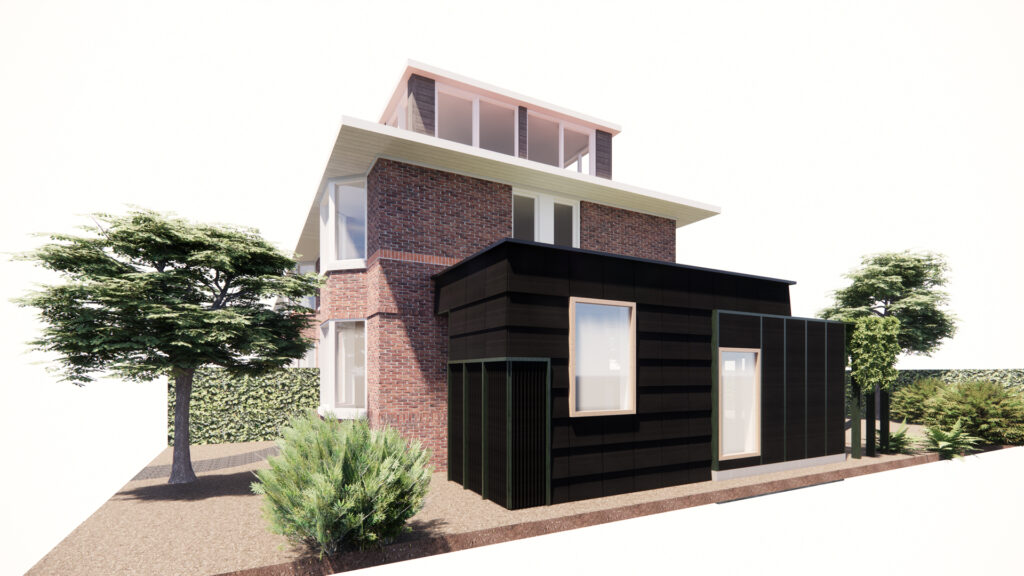 typology extension to a corner house, 30m2
commissioned private, 2021
realisation foreseen in 2024
design team Victor Verhagen, Maria Vasiloglou, Michail Bradinoff, Anastasia Louzi
location Rotterdam