In this innovative hybrid public space, the circular economy meets youth culture embedded in an ecologic landscape.
Together with Openfabric, we got selected as one of the five teams to participate in the international competition to design skate- and recyclepark Demets, on the site of a former municipal wharf in the Anderlecht neighbourhood of Brussels.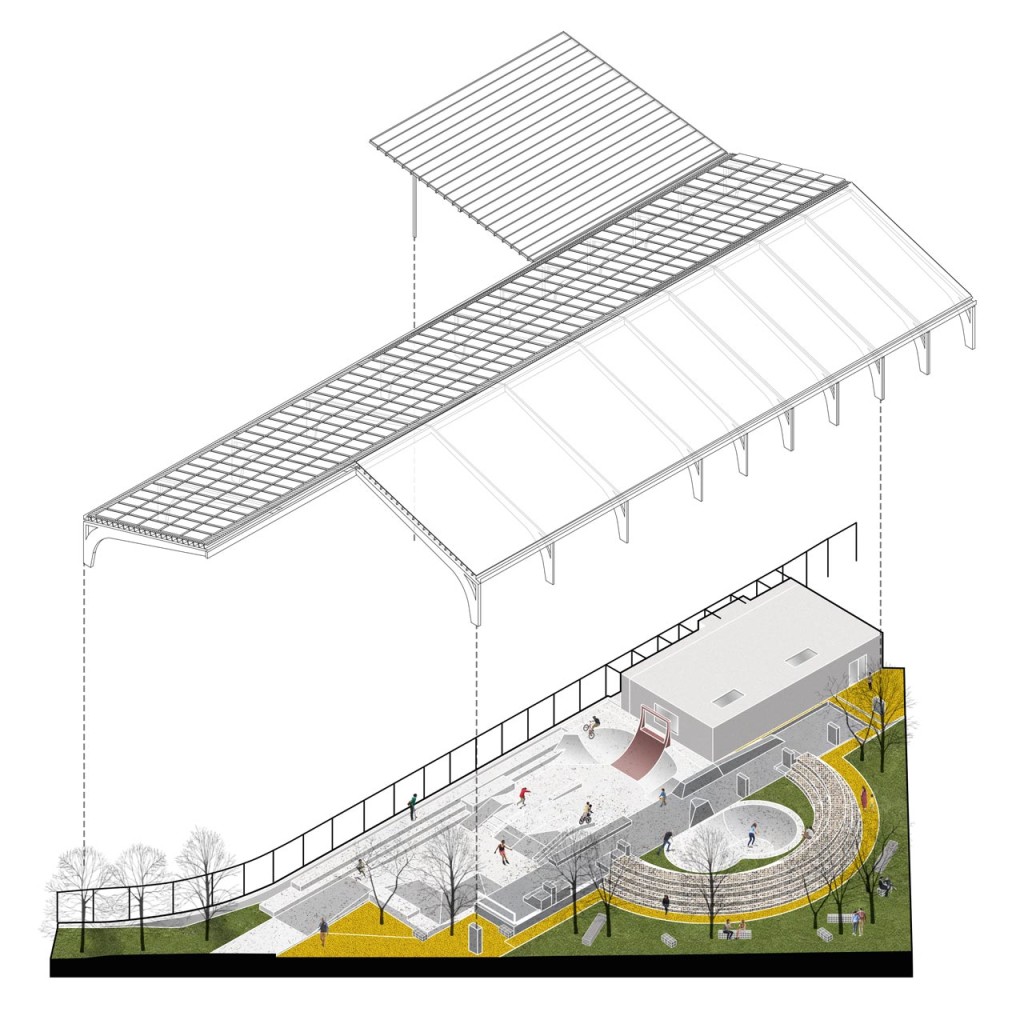 The task was to integrate a public skatepark and an ecologic landscape park within a planned recycle station with a roof designed by 51n4e and Rotor Deconstruction.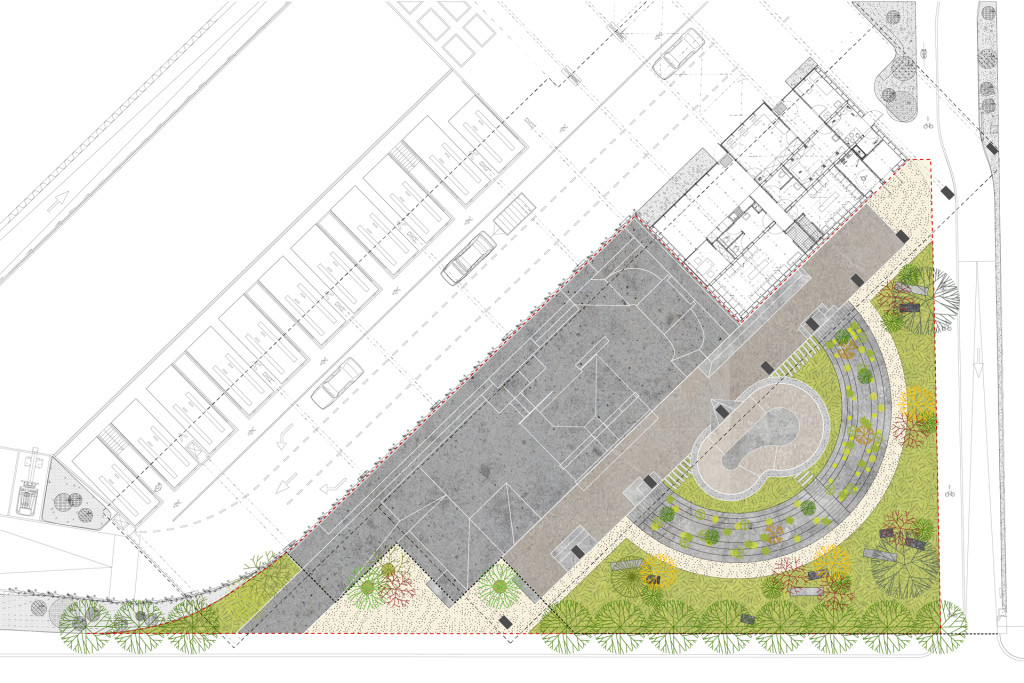 Our design embraces the formal quality of the triangular plot and rectangular roofscape above it. Under one side of the roof, the recyclestation is planned.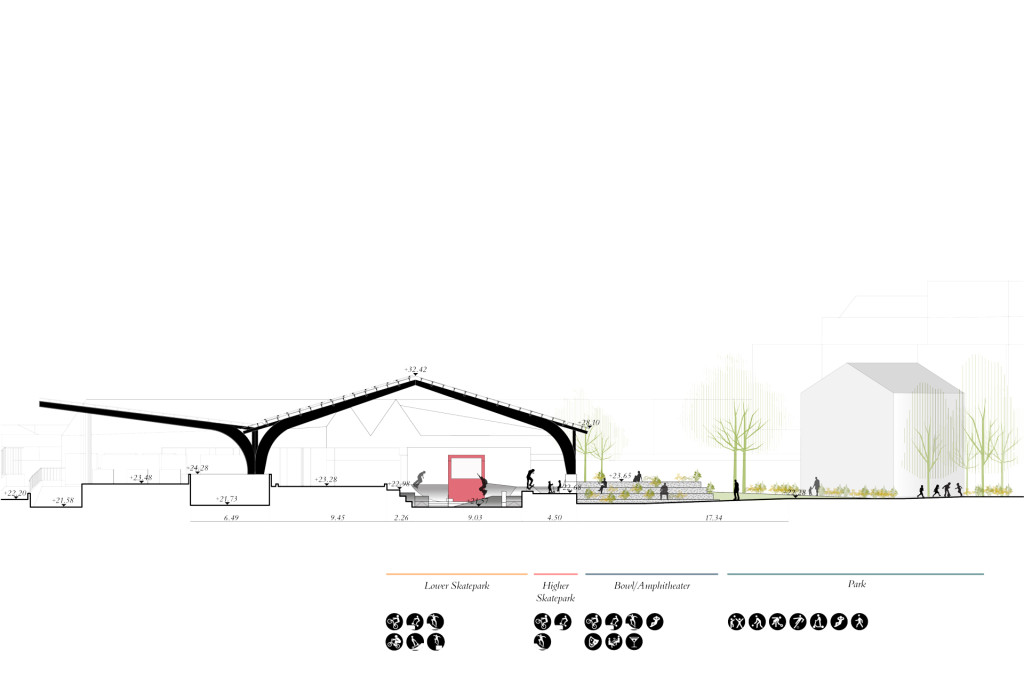 We designed a rectangular skatepark under the other side of the roof, connected with the recyclepark through a tribune. On the other side, a strip connects the skatepark to the service building housing the toilet facilities and the landscape park.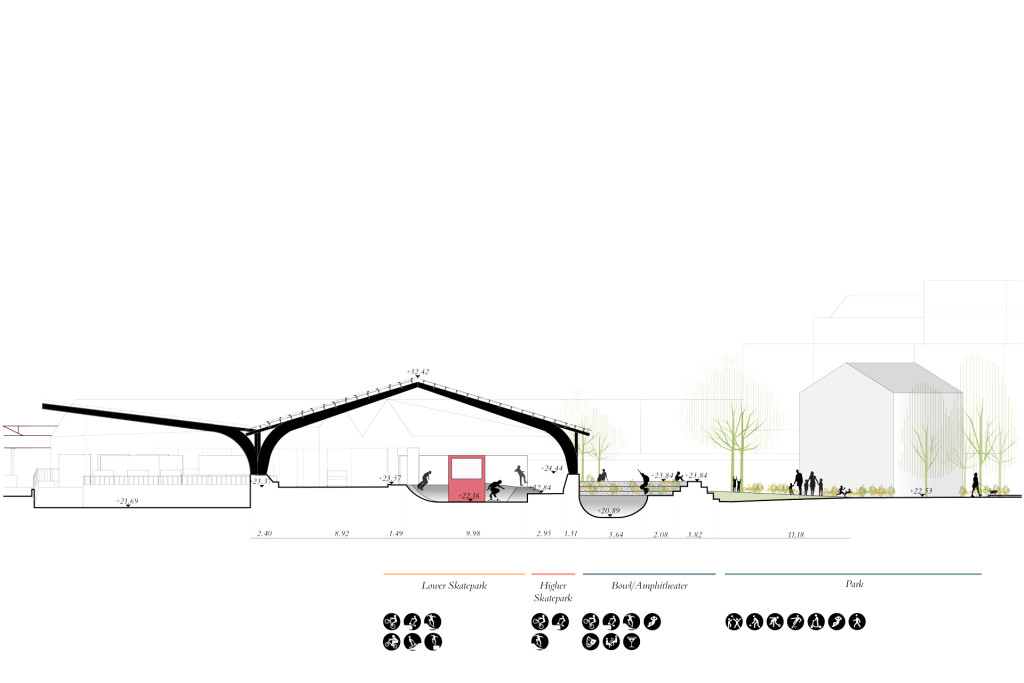 A big quarterpipe in red pigmented concrete with a curved glass window in front of the window of the service building makes a statement of distance and connection with the adjacent program.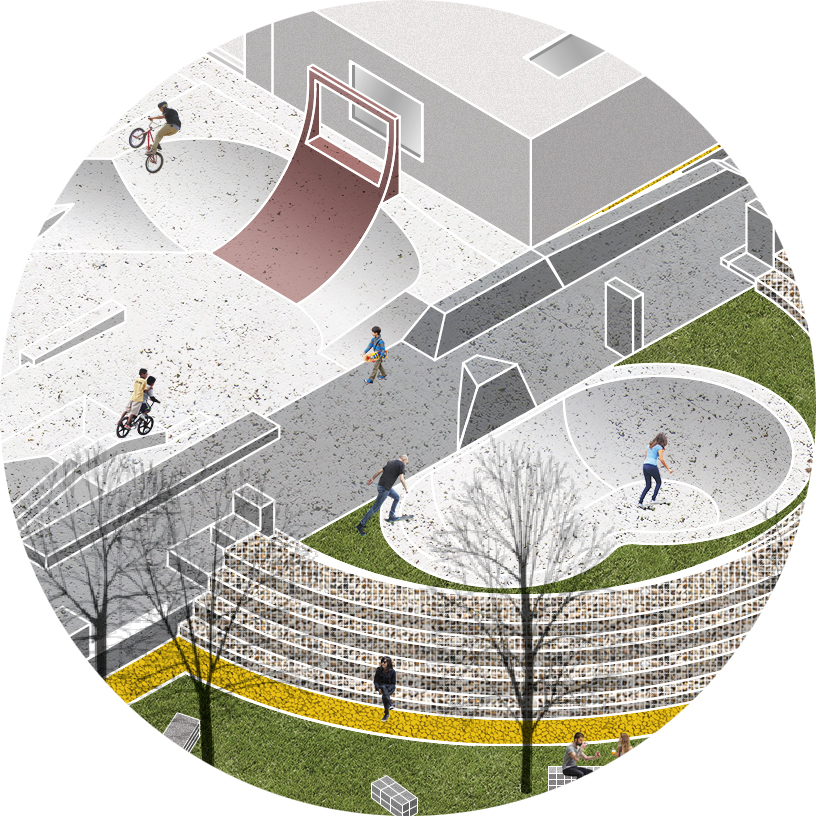 The heart of the landscape park is a semicircular tribune that can be used by skaters or passers by to relax, to focus on the skating or to distance yourself from it and enjoy the view over the adjacent canal.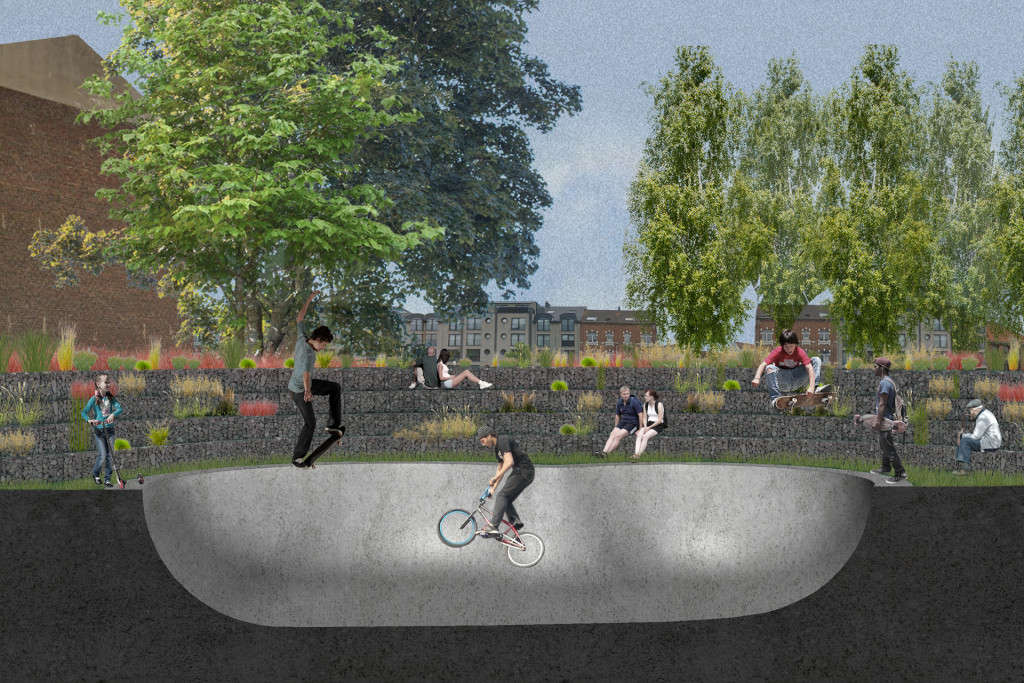 The center of attention inside the tribune is formed by a classic skatepool, that together with the ecological permeable landscape around it serves the function of rainwater detention in the case of extreme rainfall.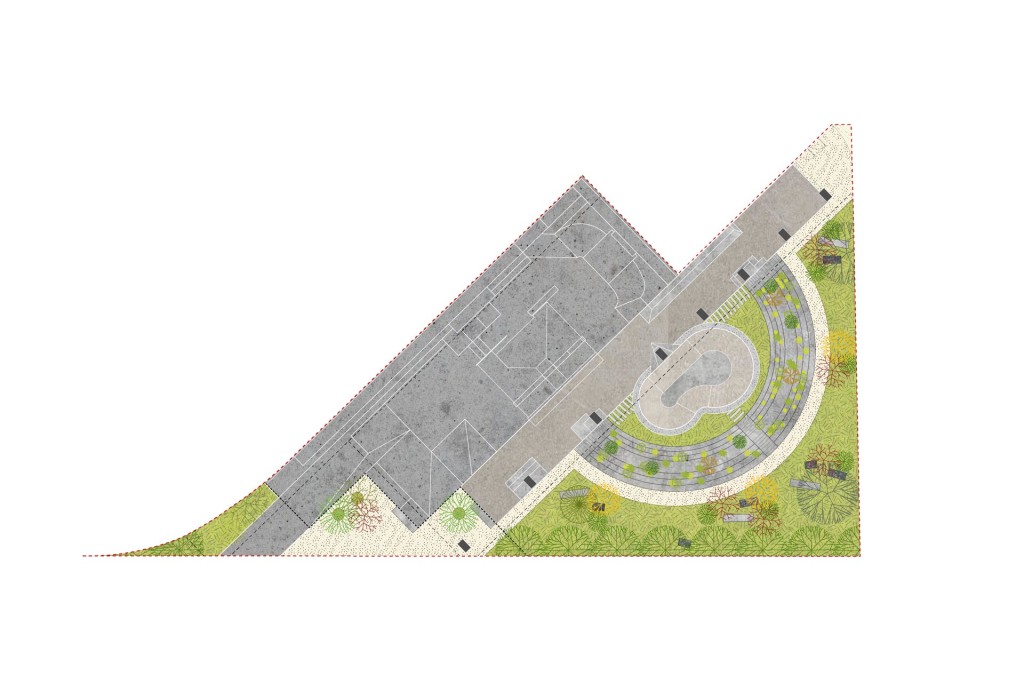 The landscape park is designed as a rainwater filtration garden. The proposed plants are a mix of new species and species that where already growing on site through the cracks of the former asphalt floor, showing their resilience and adaptation to the nutrient lacking soil.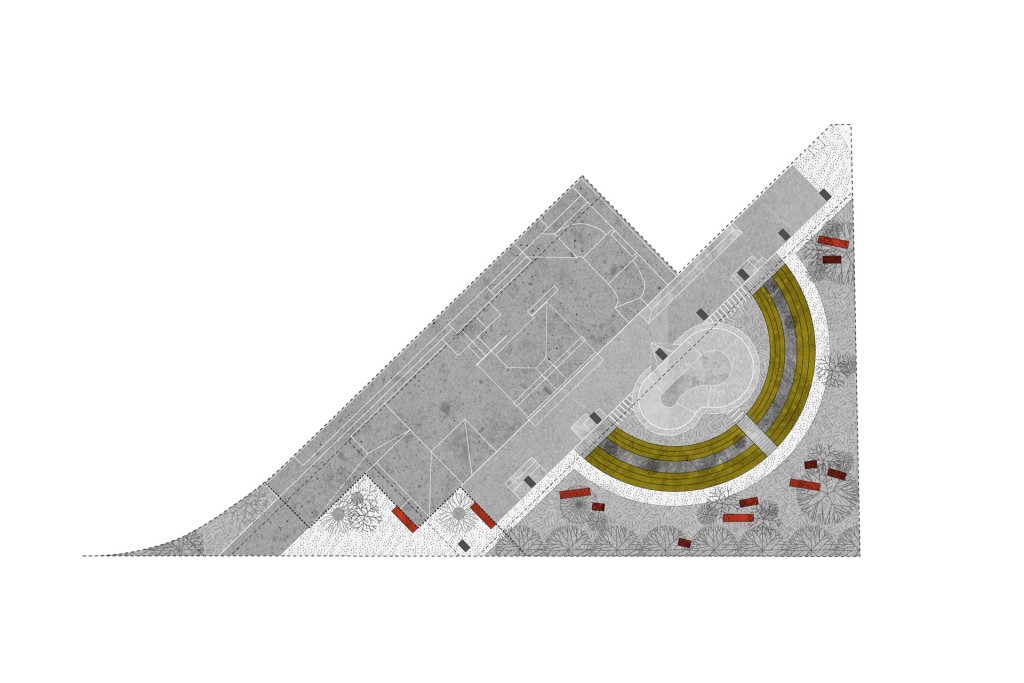 A series of benches made from piled up stones, curbs and and concrete slabs complements the garden with sitting features and nods to the former use of the site as a municipal wharf where such elements were stored as stacks of stones.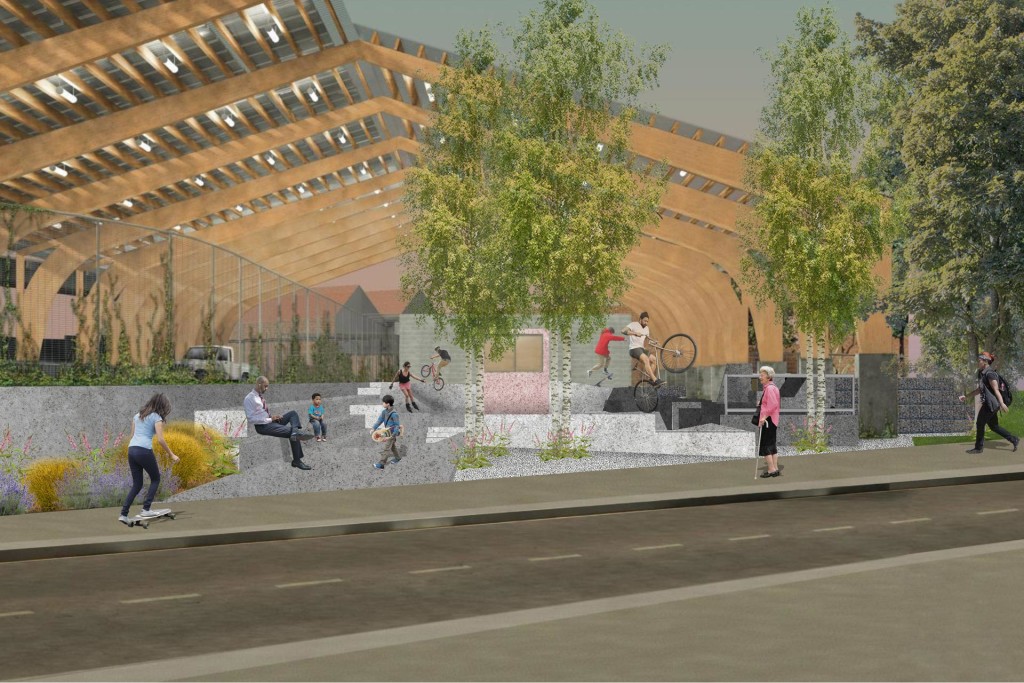 Together, all element form an inviting neighbourhood skatepark with a relaxed garden around it, in which skaters and locals can get together under one roof to skate, hang around, wait while recyling, or relax with a view on the skaters in front of the canal.
---
typology Integration of a skatepark and ecologic landscape park in a recycle station designed by 51n4e and Rotor
client Bouwmeester Maître Architecte Bruxelles – Agence Bruxelles Propreté
designteam LAGADO architects and Openfabric landscape architects
location Brussels, Belgium
size 1158 m2
budget € 350.000,-
competition finalists, 2019